There was laughter, there were tears, there was music, there were words.
We said a lot of good things in the Presidential Palace and heard a lot of good things. And why shoudn't we, we handed out Kids of the Year 2019 award!
Last year we at Časoris honoured children who are changing the world around them for the first time.
This year, we again first selected Kids of the Month, then invited all of them to an event ceremony.
The Kids of the Year 2019 are outstanding children who have a special talent that inspires young people, as well as older ones, according to the event's host, eighth-grader Taja Zidanšek. These include artists as well as researchers, scientists and thinkers, businessmen and philanthropists.
And who are the recipients of the 2019 Kids of the Year awards?
The Kid of January is Simon Štiblar. A modest guy from Prekmurje likes to connect through social networks despite his special needs or because of them. Through its presence on networks and in the media, it helps others accept and understand people with autism. He sees happiness in little things that are quickly overlooked by others. He is happy, for example, when a postman brings him a new T-shirt, cup or at even receipts so he can participate in prize draws.
The Kid of February is Kristjan Veber. When he notices the distress of others, he always offers his help. Already as a student at Celje High School – Center, he has organised numerous charity events. This year alone, because we are in 2019 and he is 19 years old, he put together 19 different charity campaigns.
The Face of March is Andrei Morozov. With programming, he earned his first €120 at the age of 13 and is now inventing new, useful gadgets. Among other things, he developed an electronic helper [lit. "godfather"] that protects children in traffic. He also presented his business idea as one of the ten Creative Youth Foundation scholarships, looking for the best globally responsible idea and the most successful youth start-up.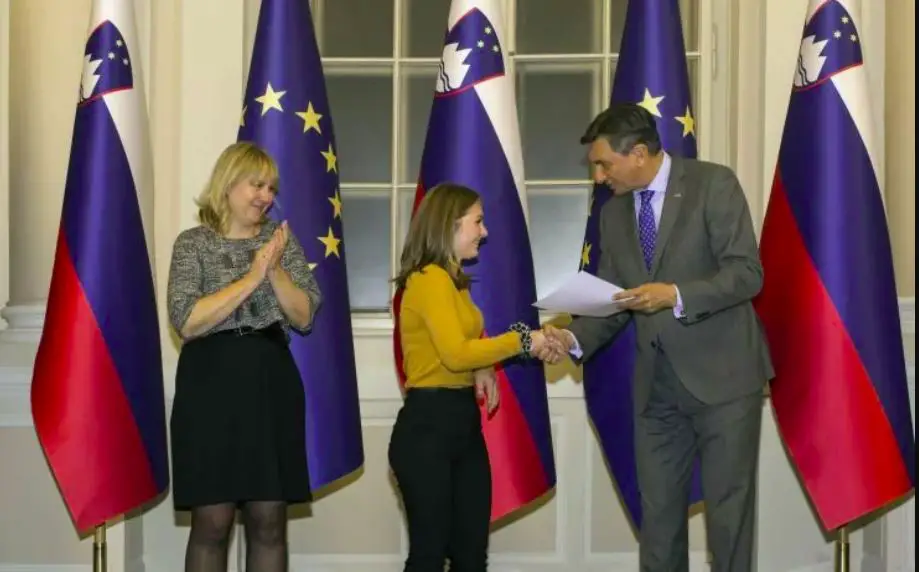 The Kid of April is Kaja Miglič Pirkmaier. An avid film lover, she co-organised this year's 4th International Kinotrip Film Festival – Youth for Young People. It is a festival organised by young people and touches upon the themes of youth. We can proudly say that this is not just a film festival, but a work wrapped in countless fond memories and experiences, Kaja said after the festival.
The Kids of May are Mihela Božič and Jerneja Trošt. Together with other students from the elementary school Drago Bajt from Vipava, they explored how their ancestors used to spend their holidays in Primorska. Through hard work and dedication, they have succeeded in research work that reveals some of the rich and diverse lives of parents and grandparents. The findings were presented on behalf of all participants at a meeting of young historians of Slovenia.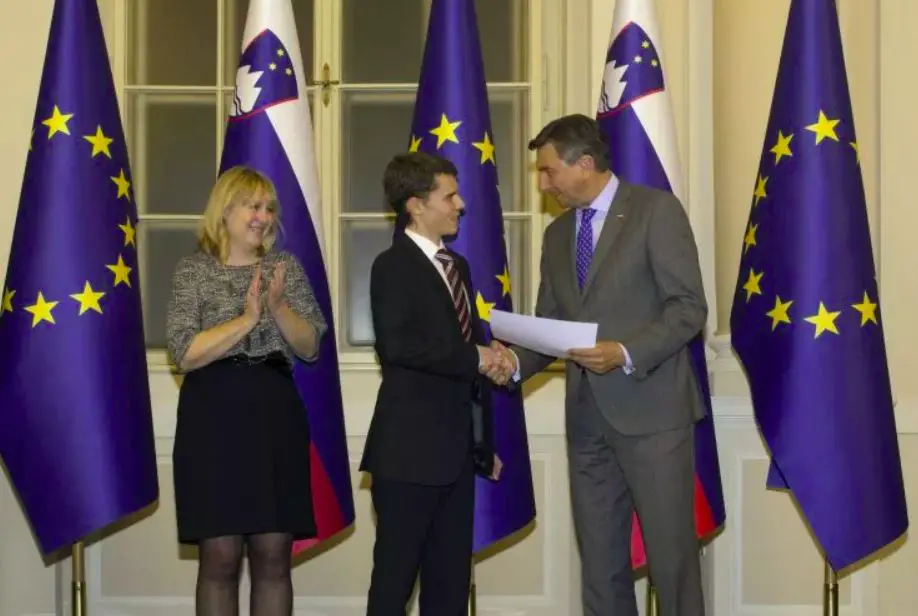 The Kid of June is Simon Trussevich. At his elementary school he successfully completed a two-year Democracy at School project. With the support of the project, young people highlighted some of the shortcomings of the current education system at the state and local levels, and many have managed to correct and improve a lot of these within their schools.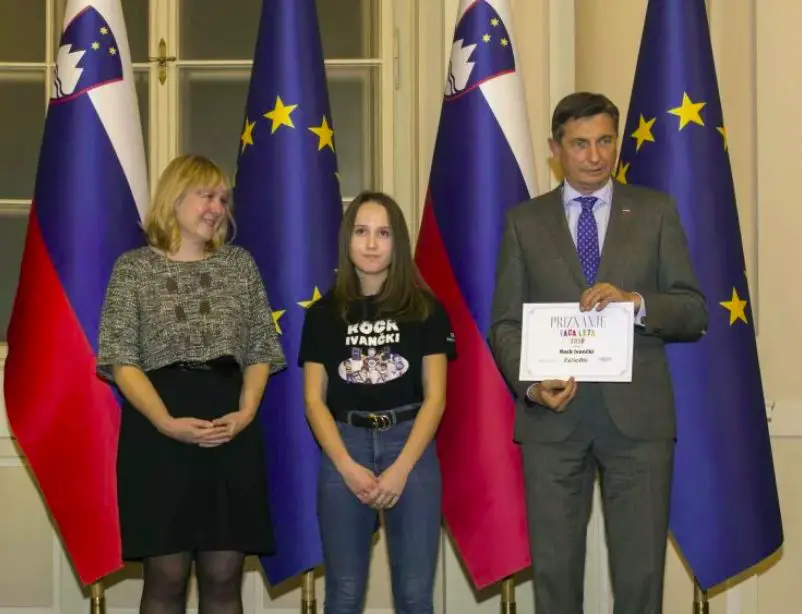 The Kids of July and August are Rock Ivančki. The young singers first created a school musical and together with their teachers performed all together on the big stage, and then in the early summer days they recorded a video for We Rock for our Planet. Now they are rocking at various events across Slovenia and are effectively communicating their messages of kindness, peace and concern for the environment through music.
The Kid of September is Manica Kužner. Because wolves are her favourite animal, she first explored their life in a research assignment. In the summer, when there was much discussion in Slovenia about the danger of wolves threatening people, she bravely joined a group that monitors the number of wolves by provoking their howling, as she wanted to get to know these mysterious animals even better.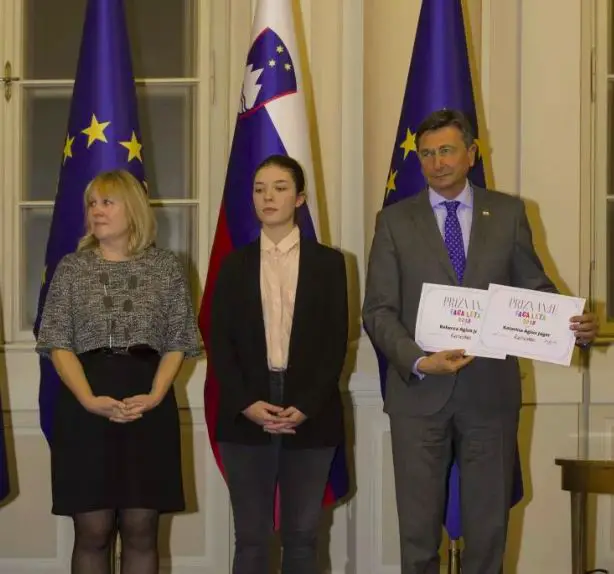 The Kids of October are sisters Katarina and Rebecca Agius Jager. They have studied in Slovenia, in the United States, and are currently in Moscow. Everywhere, they noticed that many of their peers were mentally distressed. In order to help alleviate their distress, or to encourage them to seek the help they sometimes desperately need, they joined the World Health Organization's action on World Mental Illness Day, this year aimed at preventing suicide year, and launched the #40second campaign. The award was accepted on their behalf by their friend Aleksandra Damjanić.
The Kids of November are Adriana Golub, Samo Medic and Mina Ravbar. Three friends who have known each other from kindergarten, as total beginners at debating, writing essays and solving interesting tasks in English, first entered the regional competition in the World Scholars Cup in the Netherlands and were so successful there that they then went on to the tournament of champions at Yale University in America. It is worth noting that the World Scholars Cup is not just a competition but an award for learning, as it encourages collaboration, interdisciplinary thinking and motivates participants to find talents they did not know about.
Congratulations to all the winners!
Aye, what about the Face of December?
Since the month is not over, we will only look for it and declare it in January. Even now, all readers [male and female], and all of you who know inspirational children, are kindly invited to send us your suggestions.
The search for Faces continues in 2020. If you know an inspiring child, write to us and we will be pleased to introduce them – they may be the recipient of a Faces of the Year Award in 2020!
***
The original version of this article was published on December 17th.
English translation courtesy of JL Flanner, Total Slovenia News, an English language website with news from and about Slovenia.